The GreenRope support team continuously ranks #1 among competitors
Here at GreenRope, we take support VERY seriously. We consider ourselves your partner in business, here to help every step of the way.
A GreenRope subscription gives you full access to all Sales, Marketing, and Operations features. Everything is always included at any subscription level.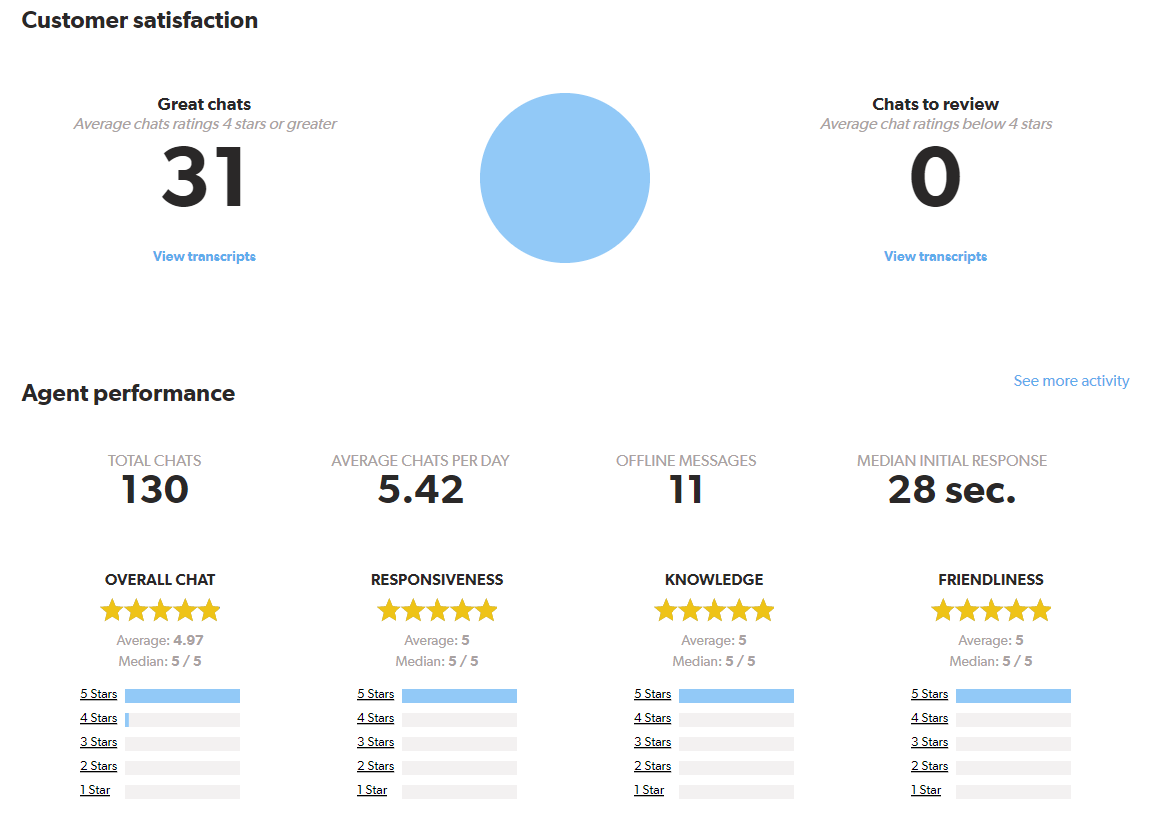 Free 24/7 LIVE support. No robots, always responsive.
Multiple ways to reach out. Live chat, ticketing, email, phone, or social. We're there where it's convenient for you.
Full onboarding program, one-on-one training for your team. We take our time to make sure you get the job done. Additional custom training available.
Knowledgeable GreenRope experts. If we don't have the answer right away, we will always get it for you.
Dependable and persistent. We won't stop until you've accomplished what you need to do.
---
Melissa Filich,
GreenRope Operations Manager
My favorite GR feature is the Learning Management System! The LMS allows you to create a customized online course for your contacts and/or employees for anything from onboarding to certification training! Interested in GreenRope's Certification Program that utilizes our very own LMS? Contact me!
I love being part of this team because it is a type of family, each of us helps one another and a lot of teamwork goes into every aspect of the system. We push each other to be better and everyone is passionate about the success of our clients and the success of GreenRope.

---
Diana Kohan,
Client Services Manager / EMEA Sales
I do enjoy our Email Campaign Optimizer! It is a unique and very powerful feature. It allows our users to find the best performing messages that drive people to engage with the user's business. Just simply choose messages you want to test, determine the target audience (along with the test group) and launch your optimized campaign! The system will count the scores each message has gained (according to the activities that the recipients have taken) and send the winning message to the rest of the group. It is great, isn't it? I believe that our Email Campaign Optimizer drives conversions and saves a lot of time for marketing professionals and users who want to create demand and target audience with the right message.

---
Valentina Voloshyna,
Client Services Manager
It is difficult to say what is my best feature of GreenRope as there are plenty of them. I like that we have lots of automation. Such as workflows, drip campaigns and so on. I fall in love with the Guide me' button as it makes using the platform quite easier. Ability to have unlimited UDF is great as it allows to gather so many information about the client in one place. I am sure I will find lots of interesting in GreenRope during my work here.
I am grateful to be the part of such a great team, to get to know such great, supportive and knowledgeable people, who are always willing to help and do their best for the customer and for the whole our team.

---
Kayla Stallings,
Training Manager
Kayla has over 10 years of experience in customer service and graphic design. With a Bachelor's in Strategic Communication from Texas Christian University, she is always looking for a creative way to help anyone and everyone. In her free time, she is either creating any and all forms of art or running a dungeons and dragons session for friends and family.

---
Jensine Ramirez,
Implementation Coordinator
I have many favorite GreenRope features, so it's hard to narrow it down to just one. But if I had to pick, it would be our Website Builder and the tracking features that come with it. It's very powerful and can be used in so many different ways. The ability to create a website, with as much or as little customizing as you prefer is useful for people from all types of backgrounds. Adding in blogs, store items, and content is simple and just a few clicks away. In addition to creating your website, we provide real-time tracking data so you can see who is going where on your site. Even if you don't use our Website Builder, we have options to help you track any page you want! Everything you need wrapped up in one robust tool.
I'm very thankful to be a part of such a hardworking and amazing team. Everyone is willing to help each other out and answer questions when needed. We all have the same goal of creating an all-in-one CRM that's successful for everyone who uses it and it shows with every interaction we have with each other and with our clients.

---
Cole Garza,
Client Services Manager / Sales Rep
My favorite feature in GreenRope has to be CRM Activities. There are so many options to create dynamic follow ups with every contact & company. Scheduling new CRM activities for myself and other team members helps us all stay on schedule. No more guesswork is needed, all of my to-do list items are all conveniently located in one interface. This way I can prioritize what must be done and easily reschedule any activities as needed. CRM Activities allow us to give contacts prompt, effective communication so they are always in the know.
I have so much gratitude for our incredibly hard working team members! Being a part of the GreenRope Team is such a growing experience. The attention to detail and effort put into creating an all inclusive CRM shows from our Developers to our Support Team. We always strive to be there whenever you need us, going above & beyond to make sure you feel confident using our system.